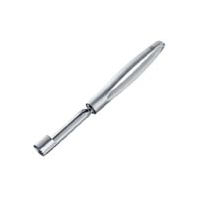 A utensil designed to remove the core (or center) from fruit or vegetables. Corers are usually made of stainless steel and come in different shapes for different uses. An all-purpose corer, used for apples, pears and the like, has a medium length shaft with a circular cutting ring at the end. The core can be cut and removed with this tool. Another kind of apple corer is shaped like a spoked wheel with handles and not only cores the apple, but cuts it into wedges as well.
Ad blocker interference detected!
Wikia is a free-to-use site that makes money from advertising. We have a modified experience for viewers using ad blockers

Wikia is not accessible if you've made further modifications. Remove the custom ad blocker rule(s) and the page will load as expected.