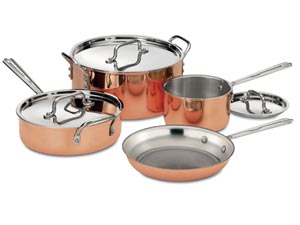 An excellent heat conductor, copper is generally lined with tin or stainless steel to keep it from interacting with certain foods. Copper should be washed in hot, soapy water and dried immediately. Though copper is relatively expensive and requires polishing, it is the cookware of choice of many professionals. It will also eventually require retinning.
Ad blocker interference detected!
Wikia is a free-to-use site that makes money from advertising. We have a modified experience for viewers using ad blockers

Wikia is not accessible if you've made further modifications. Remove the custom ad blocker rule(s) and the page will load as expected.