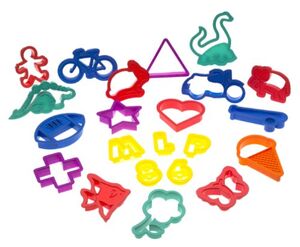 A cookie cutter is a tool used to stamp out cookie dough in a particular shape. They are usually made from metal or plastic and come in a wide variety of shapes and sizes.
Most cookie decorating techniques used today do not require elaborate cookie cutters. Not only will simple shapes suffice, they can also be used for multiple occasions. For example, a star can be used to make cookies for Christmas or Fourth of July. Heart cookies can be served for Valentine's Day or at a wedding or anniversary. Some occasions, however, may call for fancier cookie cutters. In fact, it is possible to order custom made cookie cutters in certain shapes.
Cookie Cutter on Wikibooks Cookbook - original source of article, licensed under the GNU Free Documentation License
Cookie decorating on Wikipedia - source of additional information
Ad blocker interference detected!
Wikia is a free-to-use site that makes money from advertising. We have a modified experience for viewers using ad blockers

Wikia is not accessible if you've made further modifications. Remove the custom ad blocker rule(s) and the page will load as expected.