Description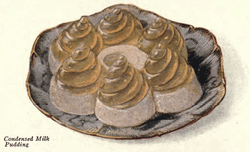 Condensed Milk Pudding with Orange Jelly from Dainty Desserts for Dainty People by Knox Gelatine—original source of recipe, out of copyright
Ingredients
1 envelope Knox acidulated gelatin
1 cup cold water
6 tablespoonfuls condensed milk
½ teaspoonful lemon flavor
2 cups hot water
Directions
Add the condensed milk to the hot water.
Place on burner, and when beginning 2.
To boil add gelatine which has been softened in cold water; also a pinch of salt.
When cold, add the lemon flavor dissolved in a tablespoonful of cold water.
Turn jelly mixture into a fancy mold, first dipped in cold water, and when firm add the condensed milk mixture and set away to harden.
Ad blocker interference detected!
Wikia is a free-to-use site that makes money from advertising. We have a modified experience for viewers using ad blockers

Wikia is not accessible if you've made further modifications. Remove the custom ad blocker rule(s) and the page will load as expected.