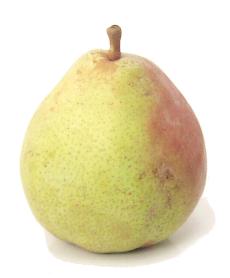 About Comice pear
Edit
Comice pears have a full, round shape with a short neck and stem. They are most often green and sometimes have a red blush in spots. This succulent pear has a custardy flesh and a mellow sweetness that makes it an elegant dessert pear which is also delicious when paired with cheese.
This large, exquisite pear has a meltingly smooth, sweet flesh and fruit-filled fragrance. It ranges in color from greenish-yellow to yellow blushed with red. It's available from October to January and is best eaten uncooked.
Ad blocker interference detected!
Wikia is a free-to-use site that makes money from advertising. We have a modified experience for viewers using ad blockers

Wikia is not accessible if you've made further modifications. Remove the custom ad blocker rule(s) and the page will load as expected.