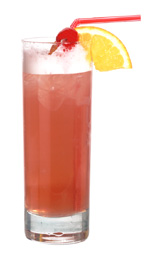 A tall, iced cocktail made with liquor (gin, rum, vodka, whiskey or brandy), lemon juice, sugar and soda water, and garnished with a lemon slice. The drink is served in a 10- to 12-ounce "collins" glass. The most popular of this genre is the Tom Collins, which is made with gin and is said to have been named for its creator.
Ad blocker interference detected!
Wikia is a free-to-use site that makes money from advertising. We have a modified experience for viewers using ad blockers

Wikia is not accessible if you've made further modifications. Remove the custom ad blocker rule(s) and the page will load as expected.