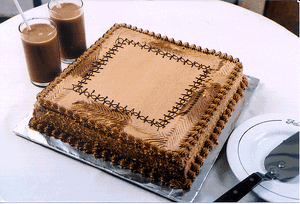 This rich, sweet, cakelike bread is usually eaten for breakfast or brunch. Coffee cakes can be made with yeast, but those using baking soda or baking powder take less time and are also delicious. Coffee cakes often contain fruit, nuts and sometimes a cream cheese filling. They can be frosted or not and are usually best served slightly warm.
Ad blocker interference detected!
Wikia is a free-to-use site that makes money from advertising. We have a modified experience for viewers using ad blockers

Wikia is not accessible if you've made further modifications. Remove the custom ad blocker rule(s) and the page will load as expected.