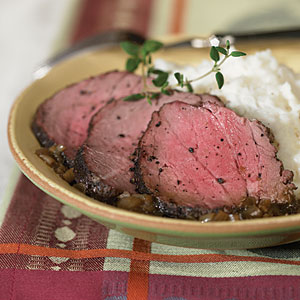 Description
Edit
Contributed by Catsrecipes Y-Group
Source: Semi Homemade
Serves 6
Ingredients
Edit
1 short loin tenderloin, trimmed of fat and silver skin (2 pounds)
Spice rub
Edit
Beef coffee gravy
Edit
Directions
Edit
Remove meat from refrigerator 1 hour before roasting.
Preheat oven to 500°F.
Fold over thin end of meat and tie with string.
In a small bowl, combine spice rub ingredients.
Rub meat generously with the spice mixture.
Let meat stand for 15 minutes and repeat rub.
Place meat on a rack in roasting pan; arrange quartered red onions around meat.
Do not cover.
Place in oven.
Turn oven down to 400°F.
Roast for 30 to 40 minutes or until internal temperature of roast is 130°F for rare to 145°F for medium.
Remove from oven.
Let meat rest for 10 minutes before slicing.
Beef coffee gravy
Edit
In a medium pan, combine broth, Worcestershire sauce, coffee crystals and seasoned salt and bring to boil.
Reduce heat to simmer.
In a small bowl, dissolve the cornstarch in the water and whisk into broth mixture.
Cook until gravy has thickened to the consistency of cream.
Whisk in butter 1 chunk at a time.
Ad blocker interference detected!
Wikia is a free-to-use site that makes money from advertising. We have a modified experience for viewers using ad blockers

Wikia is not accessible if you've made further modifications. Remove the custom ad blocker rule(s) and the page will load as expected.