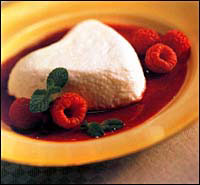 French for heart with cream, this classic dessert is made in a special heart-shaped wicker basket or mold with holes in it. Cream cheese is mixed with sour cream or whipping cream (and sometimes sugar) and placed into the special mold or chemecloth-lined basket. The dessert is then refrigerated overnight, during which time the (liquid) drains out through the basket or perforated mold. To serve, the dessert is unmolded and garnished with fresh berries or other fruit.
Ad blocker interference detected!
Wikia is a free-to-use site that makes money from advertising. We have a modified experience for viewers using ad blockers

Wikia is not accessible if you've made further modifications. Remove the custom ad blocker rule(s) and the page will load as expected.