Description
Edit
This is a great soup. It uses fried onion flakes, which Bergy first told me about. You can find it in Asian markets; sometimes they have fried garlic- I'm sure that would work well also.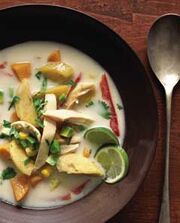 Ingredients
Edit
Directions
Edit
Heat oil in a saucepan; add shallots, garlic, ginger, and crushed red peppers and cook until it becomes aromatic.
Add the stock, coconut milk, lemongrass and turmeric.
Simmer soup, uncovered, on low heat, for 15–20 minutes, or until vegetables are cooked to your liking.
To serve, place a small handful of bean sprouts in the bottom of each bowl.
Top bean sprouts with soup, and garnish with onion flakes, and serve with a squeeze of lemon wedge.
Ad blocker interference detected!
Wikia is a free-to-use site that makes money from advertising. We have a modified experience for viewers using ad blockers

Wikia is not accessible if you've made further modifications. Remove the custom ad blocker rule(s) and the page will load as expected.