Description
Edit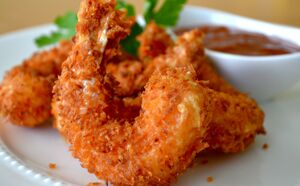 Contributed by Catsrecipes Y-Group
Source: Taste of Home
Makes 6 servings.
Ingredients
Edit
Apricot Pineapple Salsa
Edit
Directions
Edit
Peel and devein shrimp, leaving tails intact.
Make a slit down inner curve of each shrimp, starting with the tail; press lightly to flatten.
In a shallow dish, combine the cornstarch, salt and cayenne.
Set aside.
In a mixing bowl, beat egg whites until stiff peaks form.
Place the coconut in another shallow dish.
Coat shrimp with cornstarch mixture; dip into egg whites, then coat with coconut.
In an electric skillet or deep fat fryer, heat oil to 375°F.
Fry shrimp, a few at a time, for 1 to 1½ minutes on each side or until golden brown.
Drain on paper towels.
In a bowl, combine salsa ingredients.
Serve with shrimp.
↑

When cutting or seeding hot peppers, use rubber or plastic gloves to protect your hands. Avoid touching your face.
Ad blocker interference detected!
Wikia is a free-to-use site that makes money from advertising. We have a modified experience for viewers using ad blockers

Wikia is not accessible if you've made further modifications. Remove the custom ad blocker rule(s) and the page will load as expected.