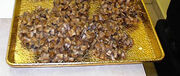 Description This recipe is very nice it is a very Jamaican tradition if you would like to know how to make coconut drops carry on reading.
Edit
Ingredients
Edit
Directions
Edit
Break the coconut using a hammer and remove the hard outer shell.
Using a small knife dice the coconut flesh into ½ x ¼ inch cubes.
Put stove on high and boil
Place a sheet of greased paper (can also use moistened foil paper) on a flat surface (kitchen counter) close by. (In Jamaica some use banana leaves instead of greased paper)
Stir the mixture in the pot with a large spoon to be sure it does not stick to the bottom.
Use the spoon to scoop out mixture to create 1-1/4-inch wide mounds on the greased paper.
Each 1-1/4-inch wide mound should be placed in a separate heap on the greased paper.
Let the drops cool and harden.
Ad blocker interference detected!
Wikia is a free-to-use site that makes money from advertising. We have a modified experience for viewers using ad blockers

Wikia is not accessible if you've made further modifications. Remove the custom ad blocker rule(s) and the page will load as expected.