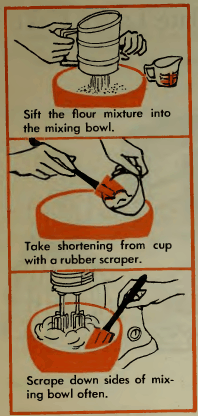 Description
Betty Crocker's Cook Book for Boy's and Girls, out of copyright
Ingredients
Directions
Heat oven to 350°F.
Grease and flour 13-inch oblong pan.
Sift first five ingredients together in a mixing bowl.
Add shortening, vanilla and buttermilk.
Beat vigorously for 2 minutes (300 strokes).
You can use an electric mixer if you scrape the sides down often. Use medium speed.
Add eggs. Beat 2 more minutes.
Scrape batter together and be sure it is all blended.
Pour into prepared pan. Bake 40 to 45 minutes.
Cool on rack.
Ice, in or out of pan, with Quick Fudge Icing.
Ad blocker interference detected!
Wikia is a free-to-use site that makes money from advertising. We have a modified experience for viewers using ad blockers

Wikia is not accessible if you've made further modifications. Remove the custom ad blocker rule(s) and the page will load as expected.