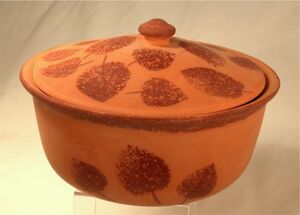 A type of pot that is commonly used to cook a variety of sauces, stews, egg, potato, vegetable, meat, poultry, and fish dishes. Clay pots allow foods to be cooked with moist heat, both from the juices of the foods as they cook as well as moisture added to the porous clay. Cooking with moisture enables foods to be cooked without using quantities of fats, oils and salts as are often utilized.
Ad blocker interference detected!
Wikia is a free-to-use site that makes money from advertising. We have a modified experience for viewers using ad blockers

Wikia is not accessible if you've made further modifications. Remove the custom ad blocker rule(s) and the page will load as expected.