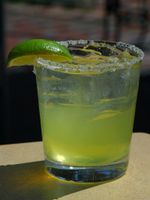 Description
The margarita is the most common of all tequila-based cocktails. There are three main ingredients in a margarita: Tequila, Triple Sec, and lime juice. The traditional recipe is three parts Tequila, two parts Triple Sec and one part lime juice.
Source: Margarita from the Wikibooks Bartending Guide—original source of recipe, licensed under the GNU Free Documentation License
Serves: 1
Ingredients
Directions
Rub the rim of a cocktail glass with a lime wedge.
Dip in salt.
Shake all ingredients with ice.
Strain into a cocktail glass.
Garnish with a lime wedge or slice.
Ad blocker interference detected!
Wikia is a free-to-use site that makes money from advertising. We have a modified experience for viewers using ad blockers

Wikia is not accessible if you've made further modifications. Remove the custom ad blocker rule(s) and the page will load as expected.