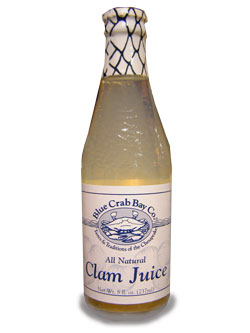 Name Variations
Edit
About Clam juice
Edit
Clam juice is a liquid strained from freshly shucked clams. In some regions, clam juice is made from cooked clams, while others use the liquid from fresh, raw clams. In either case, clam juice has a briny flavor which complements a wide range of dishes. It is often available in bottled form at supermarkets, and in clam producing regions it can be purchased at a harbor or processing center as well.
It is also used as a convenient substitute for fish stock.
Ad blocker interference detected!
Wikia is a free-to-use site that makes money from advertising. We have a modified experience for viewers using ad blockers

Wikia is not accessible if you've made further modifications. Remove the custom ad blocker rule(s) and the page will load as expected.