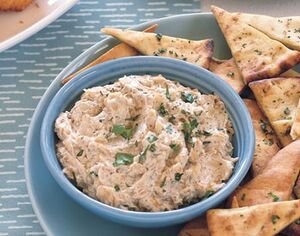 Ingredients
Edit
1/2 bunch fresh cilantro
1/4 cup extra-virgin olive oil
2 garlic cloves, crushed
6 pita breads
Chopped fresh chives
Directions
Edit
Preheat oven to 350°F. Cut each pita bread round horizontally in half. Cut each round into 6 wedges. Place pita wedges on 2 rimmed baking sheets; drizzle with cilantro-garlic oil and toss gently to coat. Arrange pita wedges in single layer; bake 5 minutes. Sprinkle with chopped cilantro leaves and bake until pita wedges are crisp and golden, about 5 minutes longer. Cool.
DO AHEAD: Can be made 1 day ahead. Store airtight at room temperature.
Serve with caramelized onion dip for a great appetizer snack!
Ad blocker interference detected!
Wikia is a free-to-use site that makes money from advertising. We have a modified experience for viewers using ad blockers

Wikia is not accessible if you've made further modifications. Remove the custom ad blocker rule(s) and the page will load as expected.