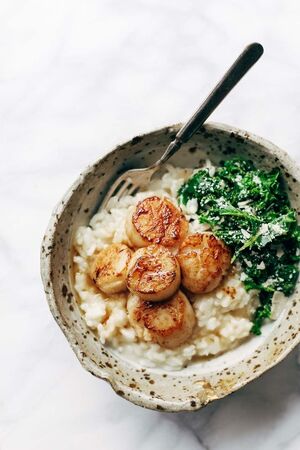 Description
Edit
Makes 4 servings
Ingredients
Edit
Directions
Edit
Bring to a boil, reduce heat to low and simmer until reduced in half.
Do not overcook.
Remove from skillet; keep warm.
Add rice stirring 2 to 3 minutes.
Increase heat to medium-high; stir in 1 cup broth.
Cook uncovered, stirring frequently, until broth is absorbed.
Continue stirring adding remaining 1 cup broth and water allowing each cup to be absorbed before adding another, until rice is tender and mixture has a creamy consistency.
It will take approximately 25 to 30 minutes.
Stir until mixture is creamy, about 2 minutes.
Stir in scallops.
Serve immediately.
Ad blocker interference detected!
Wikia is a free-to-use site that makes money from advertising. We have a modified experience for viewers using ad blockers

Wikia is not accessible if you've made further modifications. Remove the custom ad blocker rule(s) and the page will load as expected.