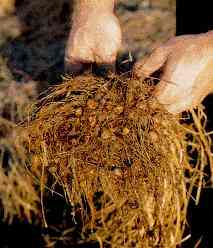 Name variations
Edit
About Chufa
Edit
Actually the tiny, tuberous roots of an African plant of the sedge family, chufa "nuts" are immensely popular in Spain and Mexico, primarily as a base for the refreshing drink, Horchata. They have a brown, bumpy skin and a sweet, chestnut like flavor. Dried chufas are available in bags in many Latin markets and health-food stores. Store them, tightly wrapped, in a cool, dark place for up to a year. Besides their use in horchatas, chufas make an excellent snack.
Ad blocker interference detected!
Wikia is a free-to-use site that makes money from advertising. We have a modified experience for viewers using ad blockers

Wikia is not accessible if you've made further modifications. Remove the custom ad blocker rule(s) and the page will load as expected.