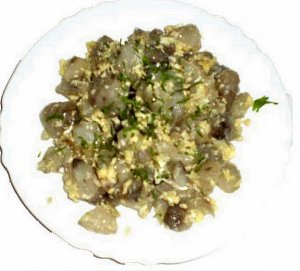 Ingredients
Edit
Directions
Edit
One night before preparing, put the potato starch to soak in warm water.
The next day, sort through the soaked potato flour, removing any undesirable bits of peel.
Split into four parts and knead repeatedly until the bitter taste disappears.
Bring to boil with enough water and two teaspoons of salt.
Once cooked, drain in a colander.
In another pot put the oil over medium heat.
Once hot, add the onion.
Fry until it is golden brown.
Add tomatoes, stir and cook for about five minutes.
Add the eggs and mix again.
Add the cooked and drained potato flour and cook for about five minutes.
Finally, before serving, add cheese and stir over low heat.
Ad blocker interference detected!
Wikia is a free-to-use site that makes money from advertising. We have a modified experience for viewers using ad blockers

Wikia is not accessible if you've made further modifications. Remove the custom ad blocker rule(s) and the page will load as expected.