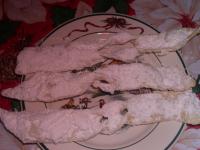 Ingredients
Edit
Directions
Edit
Add the melted butter, sugar, salt, extracts, citrus rinds, cognac, and sour cream and beat until creamy and smooth.
Add enough flour gradually to produce a thick, fairly stiff dough.
Turn out onto a floured board and knead for 8 – 10 minutes until the dough is elastic and can be handled easily.
Roll pieces of dough ⅛ inch thin (should be able to see through them) and cut into strips about 3 inches long and 2 inches wide.
Cut the ends on a diagonal.
Slit each piece in the center and pull one end through the slit.
Heat the Crisco and lard to 375°F and fry the dough strips, until lightly browned (about 1 minute) drain on paper towels and sprinkle with powdered sugar.
Ad blocker interference detected!
Wikia is a free-to-use site that makes money from advertising. We have a modified experience for viewers using ad blockers

Wikia is not accessible if you've made further modifications. Remove the custom ad blocker rule(s) and the page will load as expected.