Description
Edit
Wonderful braised cabbage!! Evolved from French Country Kitchen - Ann Hughes-Gilbey. Note: Suitable for any cabbage. Use red wine for red cabbage (plus currant jelly and vinegar),white wine for green and white varieties.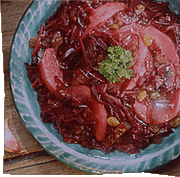 Ingredients
Edit
For red cabbage only
Edit
Directions
Edit
Quarter and core the cabbage, cook for 3 minutes, (5 or 10 for red cabbage) in boiling salted water.
Drain, pressing out all water, shred.
Peel, core and dice the apples.
Season and stir in wine and berries.
Bring to a boil, cover and simmer for 20 to 25 minutes, (or cook in a preheated oven 350 degrees, for 35 to 40 minutes) turn occasionally to prevent sticking, adding more liquid if necessary.
When the cabbage seems almost ready, check the liquid,if it seems watery, remove lid to evaporate excess.
For red cabbage, mash the jelly into the vinegar, stir into the cabbage and cook for an extra few minutes.
Check seasoning and serve hot.
Red cabbage takes longer to cook than other types - a total or 45 to 50 minutes, 65 to 70 in the oven.
Ad blocker interference detected!
Wikia is a free-to-use site that makes money from advertising. We have a modified experience for viewers using ad blockers

Wikia is not accessible if you've made further modifications. Remove the custom ad blocker rule(s) and the page will load as expected.