Description
Edit
This is a vegetable based soup out of Fes City. Autentically Moroccan, it gives you a real taste of Africa.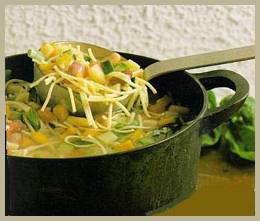 Ingredients
Edit
Directions
Edit
Peel the vegetables and dice them. Put them in a large pan with the meat, which also needs to be cut into small cubes. Add the parsley, Onion, oil, salt, pepper and saffon and stir.
Add 2 litres of water and bring the mixture to the boil.
Blanch the tomatoes in boiling water for a few seconds and then peel them carefully. Put them in a bowl and mash with a fork before adding to the soup. Leave the pan on a medium heat for about 60 minutes. Make sure it is covered for the best results.
With about 10 minutes to go, add the vermecelli, stir once and cover.
Serve immediately.
This serves 6
Other Links
Edit
See also
Edit
Ad blocker interference detected!
Wikia is a free-to-use site that makes money from advertising. We have a modified experience for viewers using ad blockers

Wikia is not accessible if you've made further modifications. Remove the custom ad blocker rule(s) and the page will load as expected.