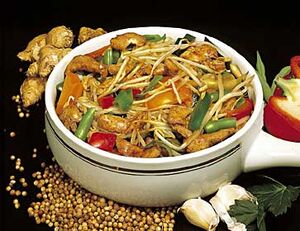 This Chinese-American dish includes small pieces of meat (usually chicken) or shrimp, mushrooms, bean sprouts, water chestnuts, bamboo shoots and onions. These ingredients are cooked together and served over rice. Sometimes spelled "chop suoy".
Ad blocker interference detected!
Wikia is a free-to-use site that makes money from advertising. We have a modified experience for viewers using ad blockers

Wikia is not accessible if you've made further modifications. Remove the custom ad blocker rule(s) and the page will load as expected.