Ad blocker interference detected!
Wikia is a free-to-use site that makes money from advertising. We have a modified experience for viewers using ad blockers

Wikia is not accessible if you've made further modifications. Remove the custom ad blocker rule(s) and the page will load as expected.
Description
Edit
Servings: Makes 16 servings of Chocolate Layer Cake
Chocolate Layer Cake with Chocolate Coffee Frosting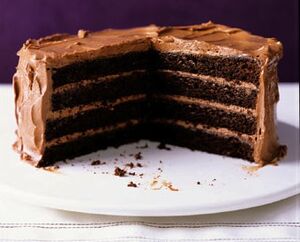 Ingredients
Edit
2 1/2 cups flour
1/2 cup unsweetened cocoa powder
2 tsp baking powder
1/2 tsp salt
1 cup unsalted butter, softened
2 cups sugar
3/4 cup sour cream
4 large eggs
1/2 cup milk
Filling/Frosting
1/4 cup butter, softened
1/4 cup sour cream
1 pound box confectioners sugar
4 tbs coffee liqueur
2 tsp vanilla
1/4 cup unsweetened cocoa powder
Heat oven to 350 degrees.
Grease 3 round cake pans.
Line pans with wax paper, grease paper.
In bowl, mix flour, cocoa, baking powder, and salt.
In 2nd bowl, beat butter and sugar until creamy.
Beat in sour cream, then eggs.
Beat in flour mixture alternating with milk.
Divide among pans.
Bake for 30 minutes or until springy to touch.
Cool in pans for 5 minutes.
Invert, remove paper.
Filling/Frosting
In bowl, beat butter, sour cream.
Beat in sugar, 3 tbs liqueur, vanilla.
Filling
Remove 3/4 cup, chill 5 min.
Frosting
Beat cocoa, remaining liqueur into remaining butter mixture.
Fill, stack, frost layers.
Cut into slices and place on serving plates and serve with a cold glass of milk.
Recipe from:
Edit