Description
Edit
Ingredients
Edit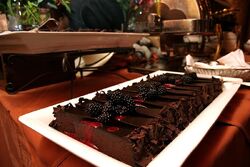 For the chocolate base
Edit
Chocolate crumb crust
Edit
Directions
Edit
Chocolate crumb crust
Edit
Mix with the rest of crust ingredients.
Press mixture onto bottom and ½ inch to 1-inch up side of 9-inch spring-form pan.
Place butter in a medium microwave-safe bowl.
Microwave at high, 30 to 45 seconds or until melted.
Stir in cocoa until smooth; set aside. Beat cream cheese in large bowl.
Add cocoa mixture; beat well. Gradually beat in sweetened condensed milk until smooth.
Add eggs and vanilla; beat well. Pour batter into a prepared pan.
Bake 1 hour and 5 minutes or until set.
Remove pan from oven to wire rack; loosen cake from side of pan.
Cool completely; remove side of pan.
To serve, garnish as desired.
Cover; refrigerate leftover cheesecake. Garnish as desired.
Ad blocker interference detected!
Wikia is a free-to-use site that makes money from advertising. We have a modified experience for viewers using ad blockers

Wikia is not accessible if you've made further modifications. Remove the custom ad blocker rule(s) and the page will load as expected.