Description
Edit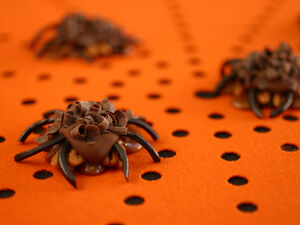 Work time: 1 hour, 40 minutes
Total time: 1 hour, 40 minutes
Ingredients
Edit
Decorations
Edit
colored sprinkles
Assorted decors and dragees
Directions
Edit
Line a baking sheet with waxed paper.
Cut licorice into small pieces.
Use your hands to flatten each caramel into a small oval.
Press bits of licorice onto 12 of the flattened caramels to make legs.
Top each with a second caramel and press edges to seal.
Put on prepared baking sheet.
Put chocolate in a microwave-safe bowl.
Microwave on high 1 minute.
Stir and then microwave on high 1 minute longer.
Remove from oven and stir until melted.
Spoon melted chocolate over each candy.
Decorate with nuts and candy.
Nutritional information
Edit
140 calories per serving | 1 g protein | 7 g fat | 45 mg sodium | 20 g carbohydrate | 2 mg cholesterol
Ad blocker interference detected!
Wikia is a free-to-use site that makes money from advertising. We have a modified experience for viewers using ad blockers

Wikia is not accessible if you've made further modifications. Remove the custom ad blocker rule(s) and the page will load as expected.