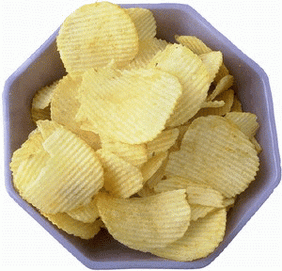 In the UK, chips refers to what Americans call 'French fries'. Their potato chips are called "crisps".
In the US, the word chips usually refers to potato chips. Because these deep-fried, thinly sliced potatoes were invented by the chef of a Saratoga Springs, New York, hotel at the behest of a mid-19th-century guest, they're also called Saratoga chips. Now these all-American favorites come commercially in a wide selection of sizes, cuts (ripple and flat, thicknesses, and flavors such as chive, barbecue and Nacho. Most commercial potato chips contain preservatives; those labeled natural usually do not. Some are salted while others are labeled low-salt; though most potato chips are skinless, others do include the flavorful skin. There are even chips made from mashed potatoes formed into perfect rounds and packed into crushproof cardboard cylinders. All potato chips should be stored in an airtight container in a cool, dark place. The storage time depends on whether or not they contain preservatives and how old they were when purchased. Some chips have a freshness date stamped on the package.
See also
Edit
Ad blocker interference detected!
Wikia is a free-to-use site that makes money from advertising. We have a modified experience for viewers using ad blockers

Wikia is not accessible if you've made further modifications. Remove the custom ad blocker rule(s) and the page will load as expected.