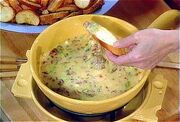 Ingredients
Edit
1 1/2 tablespoons cornstarch
2 cloves garlic, halved
1 1/3 cups dry white wine
1 tablespoon fresh lemon juice
2-3 tablespoons kirsch
freshly ground nutmeg, to taste if desired
3 canned whole chipotle chiles in adobo, to taste,minced (about 1 1/2 tablespoons, *available at Hispanic markets and some specialty foods shops)
For the fried shallots
1 1/2 cups thinly sliced shallots (about 8 large)
4 tablespoons vegetable oil
Accompaniments
Directions
Edit
In a bowl toss together cheeses and cornstarch.
Rub inside of a heavy 3- to 4-quart saucepan with garlic halves, leaving garlic in pan, and add wine and lemon juice.
Bring liquid just to a boil and stir in Cheese mixture by handfuls.
Bring mixture to a bare simmer over moderate heat, stirring, and stir in kirsch, nutmeg, chilies, and pepper to taste.
Transfer fondue to a fondue pot and set over a low flame.
Stir in fried shallots, scallions, and/or Bacon if using and serve fondue with accompaniments for dipping.
Note
Stir fondue often to keep combined.
To make the fried shallots
In a heavy 10- to 12-inch skillet cook shallots in oil moderately high heat, stirring, until golden brown.

Transfer shallots with a slotted spoon to paper towels to drain and season with salt.

Makes about 2/3 cup.
Ad blocker interference detected!
Wikia is a free-to-use site that makes money from advertising. We have a modified experience for viewers using ad blockers

Wikia is not accessible if you've made further modifications. Remove the custom ad blocker rule(s) and the page will load as expected.