Description
Edit
An international combination of real pork, herbs, spices, and soy sauce is enriched with sesame oil, hoisin sauce, fruit juice, and vinegar, and cooked to red-hot perfection, as it best provides the meat with some reddish zest based in China.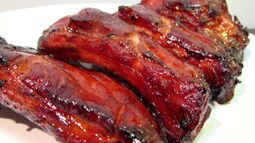 Ingredients
Edit
Directions
Edit
Place ribs in a pressure cooker and brown.
Mix all remaining ingredients except rice in a small bowl and then pour over the ribs in the pressure cooker turning to coat.
Cook on high pressure for 60 minutes. Transfer the cooked ribs to a plate. Serve hot and plain or with rice and/or other main dishes.
Ad blocker interference detected!
Wikia is a free-to-use site that makes money from advertising. We have a modified experience for viewers using ad blockers

Wikia is not accessible if you've made further modifications. Remove the custom ad blocker rule(s) and the page will load as expected.