Description
Edit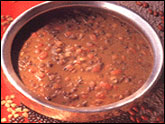 Ingredients
Edit
yogurt -3 cups
Coriander - 2 bunches
Onion - 1 large
cream - 1/2 cup
water - 3 cups
Coriander to garnish.
Directions
Edit
Wash and chop the coriander, Chop the onions finely. In a mixer, blend yogurt, coriander, Onion and cream until smooth. Pour into a large soup bowl and add iced water. Keep stirring till it blends. Chill in the refrigerator and serve it garnished with coriander leaves.
Other Links
Edit
See also
Edit
Ad blocker interference detected!
Wikia is a free-to-use site that makes money from advertising. We have a modified experience for viewers using ad blockers

Wikia is not accessible if you've made further modifications. Remove the custom ad blocker rule(s) and the page will load as expected.