With all of the spices of North Africa, thia traditional appetizer is delicious and really simple to make.
Ingredients
Edit
Directions
Edit
Mix the tomatoes. celery, scallion and tomato and orange juice together in a bowl, making sure they are well blended.
Warm the olive oil over a medium heat in a medium-sized pan. Add the garlic, cumin, paprika, and cinnamon to the oil and stir continuously for 1 minute. Maintain the heat so the flavor isn't lost.
Add the spice mixture to the soup, as well as any lemon juice, hot sauce, and salt to taste as necessary.
Put the mixture in a sealable tub and refrigerate for 4 hours before serving.
This recipe serves 4.
Tomato Soup Videos
Edit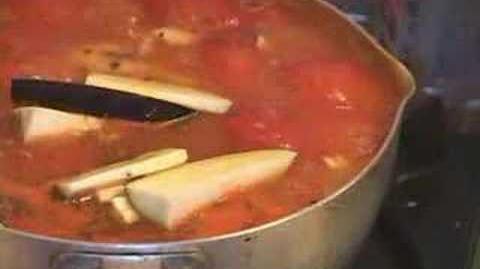 Ad blocker interference detected!
Wikia is a free-to-use site that makes money from advertising. We have a modified experience for viewers using ad blockers

Wikia is not accessible if you've made further modifications. Remove the custom ad blocker rule(s) and the page will load as expected.