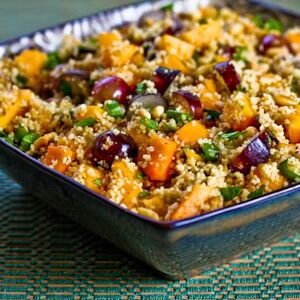 Description
Edit
Source: Vegetarian Times, August 1993
Ingredients
Edit
Directions
Edit
Bring water to a boil in a saucepan.
Stir in couscous, return to a boil, cover and turn off heat.
Let sit (without lifting the lid) until the water has been absorbed.
Meanwhile, stir together tahini and orange juice to make a smooth paste.
Fluff couscous with a fork to break up any lumps.
Stir into mango mixture.
Add cilantro and dried fruits if desired; stir until thoroughly blended.
Cover and refrigerate until chilled through, about 3 hours.
Nutritional information
Edit
Per serving (lacto version):
246 calories | 10 g prot | 2 g fat | 47 g carb | 1 mg chol | 611 mg sod | 6 g fiber
Ad blocker interference detected!
Wikia is a free-to-use site that makes money from advertising. We have a modified experience for viewers using ad blockers

Wikia is not accessible if you've made further modifications. Remove the custom ad blocker rule(s) and the page will load as expected.