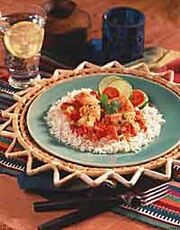 Description
Edit
Diabetic Special Diets. This recipe yields 4 servings.
Ingredients
Edit
Directions
Edit
Place fish, 1 tablespoon lime juice and black pepper in small bowl.
Stir well and let marinate at least 15 minutes but not more than 30 minutes.
Stir in serrano peppers; mix well.
Spray medium nonstick skillet with cooking spray; heat over high heat.
Add fish; cook and stir 2 to 3 minutes or until lightly browned.
Reduce heat to medium; cover and cook about 5 minutes, stirring occasionally, or until fish just begins to flake.
Remove fish to clean bowl; set aside.
Return skillet to medium heat; add tomato mixture.
Cook and stir about 3 minutes or just until onions are soft.
Return fish to skillet; cook and stir 2 minutes.
Remove from heat.
Add remaining 2 tablespoons lime juice and cilantro.
Serve over rice.
Garnish, if desired.
Ad blocker interference detected!
Wikia is a free-to-use site that makes money from advertising. We have a modified experience for viewers using ad blockers

Wikia is not accessible if you've made further modifications. Remove the custom ad blocker rule(s) and the page will load as expected.