Description
Curry powder gives this side dish a taste of India.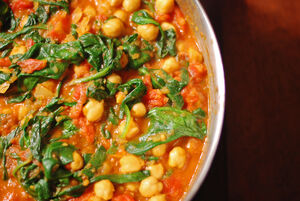 Fruits and Veggies Matter, Adult Recipe Cards by the US Centers for Disease Control and Prevention, public domain government resource—original source of recipe
Cook Time: 15 minutes
Serves: 6
Ingredients
Directions
Combine onion and ginger in food processor and pulse until minced.
Heat oil in a large skillet over medium high heat.
Add onion mixture and curry. Sauté 3 minutes.
Add chickpeas and tomatoes; simmer for 2 minutes.
Stir in spinach, water, and salt. Cook another minute until spinach wilts. Serve over brown rice.
Tip
If you don't have a food processor, chop onion and ginger into small pieces.
Variation
Try with other beans, such as navy beans, black-eyed peas, or lentils instead of chickpeas. These beans should be cooked before using in this recipe.
Ad blocker interference detected!
Wikia is a free-to-use site that makes money from advertising. We have a modified experience for viewers using ad blockers

Wikia is not accessible if you've made further modifications. Remove the custom ad blocker rule(s) and the page will load as expected.