Description
Curry powder gives this side dish a taste of India. A white-hot combination of curry powder, chickpeas, and real vegetables is exceptionally made tangy and cooked to smooth perfection.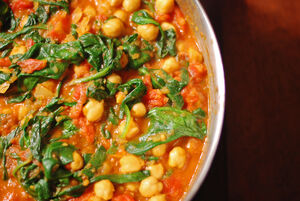 Fruits and Veggies Matter, Adult Recipe Cards by the US Centers for Disease Control and Prevention, public domain government resource—original source of recipe
Cook Time: 15 minutes
Serves: 6
Ingredients
Directions
Combine onion and ginger in food processor and pulse until minced.
Heat oil in a large skillet over medium high heat.
Add onion mixture and curry. Sauté 3 minutes.
Add chickpeas and tomatoes; simmer for 2 minutes.
Mix with the spinach, water, and salt. Cook another minute until spinach wilts. Serve over brown rice.
Tip
If you don't have a food processor, chop onion and ginger into small pieces.
Variation
Try with other beans, such as navy beans, black-eyed peas, or lentils instead of or in addition to chickpeas. These beans should be cooked before using in this recipe.
Nutritional Information
Servings: 5 tablespoons per plate or ramekin
Ad blocker interference detected!
Wikia is a free-to-use site that makes money from advertising. We have a modified experience for viewers using ad blockers

Wikia is not accessible if you've made further modifications. Remove the custom ad blocker rule(s) and the page will load as expected.