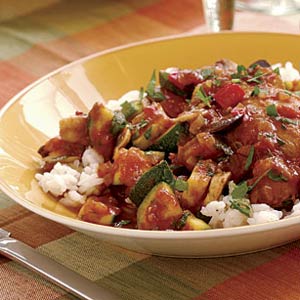 Description
Edit
Contributed by Healthy Recipes for Diabetic Friends Y-Group
Ingredients
Edit
Directions
Edit
In a large skillet, heat oil over medium-high heat.
Sauté onion, mushrooms, garlic, red pepper flakes, salt, pepper, oregano, and basil until onions are translucent, about 4 to 5 minutes.
Stir in chicken broth, tomatoes, and zucchini and bring to a simmer.
Stir in chicken, cover and simmer until chicken is cooked through, about 10 minutes.
Nutritional information
Edit
Per serving (285 g-wt.):
220 calories (80 from fat) | 9g total fat | 1g saturated fat | 26g protein | 10g total carbohydrate (2g dietary fiber, 4g sugar) | 60mg cholesterol | 640mg sodium