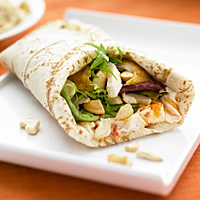 This recipe is for 2 servings.
Ingredients
Edit
Directions
Edit
Spray a cold large saucepan with nonstick spray coating.
Cook till onion is tender.
Cut up tomatoes.
Bring to boiling; reduce heat.
Simmer, uncovered, 20 minutes or till mixture is reduced to 2 cups.
Chicken roll
Edit
Meanwhile, skin, bone and cut chicken breasts lengthwise in half.
Place each chicken piece between 2 pieces of plastic wrap pound with a meat mallet to about ¼ inch thickness.
In a bowl stir together ricotta cheese, Parmesan cheese and parsley.
Fold in long sides of chicken piece then roll up from short end place the chicken rolls, seam side down, in an baking dish, pour sauce over chicken.
Cover and refrigerate for 2 hours.
Bake, covered for 40 minutes or till chicken is no longer pink.
Sprinkle with mozzarella cheese ; bake 4 minutes more.
Transfer to platter.
Ad blocker interference detected!
Wikia is a free-to-use site that makes money from advertising. We have a modified experience for viewers using ad blockers

Wikia is not accessible if you've made further modifications. Remove the custom ad blocker rule(s) and the page will load as expected.