Description
Edit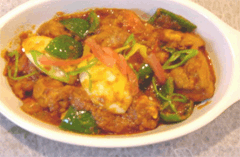 Ingredients
Edit
Directions
Edit
Heat the oil in a cooking pan and fry the chopped Onion, browning it a little. Add chilli powder, ginger powder, salt, turmeric powder, coriander powder and fry the spices for two minutes. Then add chopped tomatoes and keep stirring it for ten minutes or until the butter leaves the spices. Now add the Chicken cubes and stir them in the masalah to get the Chicken pieces nicely coated.
Add 1/2 a cup of water and leave the Chicken to cook on a low light for fifteen minutes. Remove the lid, stir the Chicken and cook for further ten minutes. When butter starts to come out, add 1/4 cup of water, sprinkle garam masalah and thinly chopped coriander leaves and cover the pan for five to six minutes.
Other Links
Edit
See also
Edit
Ad blocker interference detected!
Wikia is a free-to-use site that makes money from advertising. We have a modified experience for viewers using ad blockers

Wikia is not accessible if you've made further modifications. Remove the custom ad blocker rule(s) and the page will load as expected.