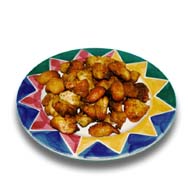 Chicharrón is a dish made of fried pork rinds. It is sometimes made from chicken, mutton, or beef.
Chicharrón is popular in Andalucia, Spain, and in Latin America is part of the traditional cuisines of Argentina, Bolivia, Brazil (where it is called torresmo), Colombia, Cuba, Dominican Republic, Guatemala, Honduras, El Salvador, Mexico, Nicaragua, Panama, Peru, the Philippines, Puerto Rico, Venezuela, and others. The singular form, chicharrón, is also used as a mass noun, especially in Filipino, where words do not have a pluralized form. They are usually made with different cuts of pork, but sometimes made with mutton, or with beef in Argentina. In Costa Rica, they are usually made from pork ribs or similar cuts; rinds are rarely used.
Ad blocker interference detected!
Wikia is a free-to-use site that makes money from advertising. We have a modified experience for viewers using ad blockers

Wikia is not accessible if you've made further modifications. Remove the custom ad blocker rule(s) and the page will load as expected.