Description
Edit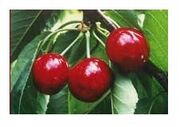 Cherry pie is both sweet and tart and is another favorite summer pie. Be sure to use "pie cherries" also known as sour cherries to bake the best tasting cherry pie. Pie cherries are usually sold canned, packed in water, in the baking aisle of your grocery store.
Ingredients
Edit
Directions
Edit
Preheat oven to 400 °F.
Prepare double pie crust for an 8-inch pie.
Mix together cherries, cornstarch, almond extract and red food coloring.
Pour into the prepared pie crust.
Dot with butter or margarine.
Top with pie crust.
Crimp and seal.
Cut slits in top of pie crust.
Bake for 40 to 60 minutes or until light brown.
The pie filling will be bubbling through the slits when the pie is done baking.
Line a baking sheet with foil and place the pie plate on top of it to prevent pie filling from spilling onto oven floor.
Things You'll Need
Edit
Mixing bowls
Measuring cups and spoons
8-inch pie plate
Mixing spoon
Sources and Citations
Edit
Family Fare: A Guide to Good Nutrition, #1, USDA
Ad blocker interference detected!
Wikia is a free-to-use site that makes money from advertising. We have a modified experience for viewers using ad blockers

Wikia is not accessible if you've made further modifications. Remove the custom ad blocker rule(s) and the page will load as expected.