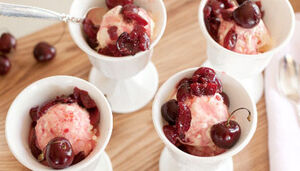 Ingredients
Edit
2 cups pitted cherries plus extra for garnish
3/4 cup dry white wine
1/2 cup light brown sugar
1/4 cup orange juice
2 tbs brandy or bourbon
1 pint vanilla frozen yogurt
Directions
Edit
In a saucepan, combine first 5 ingredients.
Bring to a boil.
Reduce heat and simmer cherries 20 min. or until sauce thickens to a syrup.
Remove from heat, let cool 15 min.
To serve
Edit
Divide yogurt among 4 dessert bowls.
Spoon warm sauce and cherries over the yogurt, top each with a few fresh cherries.
Makes 4 Servings of Cherries Jubilee
Contributed by:
Edit
Ad blocker interference detected!
Wikia is a free-to-use site that makes money from advertising. We have a modified experience for viewers using ad blockers

Wikia is not accessible if you've made further modifications. Remove the custom ad blocker rule(s) and the page will load as expected.