Ingredients
Edit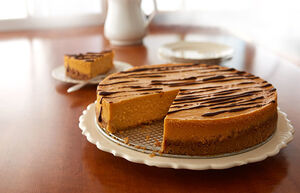 16 crushed cinnamon graham crackers
1 ¾ cup sugar, white or brown only
1 ¾ cup melted butter
2 packs of softened cream cheese (8 oz. each)
2 eggs
1 cup of instant coffee, prepared and cold
1 square of semi-sweet confectioner chocolate
1 cup caramel syrup
1 tbsp. of instant coffee, hazelnut flavored
Preparation
Edit
Mix the cracker crumbs with 1 cup of sugar and the margarine. Press the mix firmly on the base and walls of a nine inch round mold.
Place it in the fridge while you prepare the filling. Whip the cream cheese and remaining sugar in a large container with a mixer at medium speed until they are mixed.
Add the eggs and coffee; mix until you get an even preparation. Pour this on the base.
Bake it at 350° F for 35-40 minutes or until the center is almost firm. Let it cool completely on a metal rack.
Refrigerate for at least 3 hours or overnight.
Decorate the top of the pie with the melted chocolate.
Mix the caramel covering and hazelnut coffee in a small pot; cook it over low flame until they are mixed and warm, stirring every now and then.
Cool at room temperature. pour a tbsp of the caramel mix on each dessert plate; crown it with a slice of pie.
Pour an extra tablespoon of caramel. Serve cold and plain or with other desserts.
Ad blocker interference detected!
Wikia is a free-to-use site that makes money from advertising. We have a modified experience for viewers using ad blockers

Wikia is not accessible if you've made further modifications. Remove the custom ad blocker rule(s) and the page will load as expected.