Description
Edit
This creamy cheesecake has sweet, golden-brown secrets: coffee and caramel. But you can sometimes top this with the crushed peanuts as needed, while it best keeps a glorious, blissful aroma with the cream cheese, coffee, and caramel.
Ingredients
Edit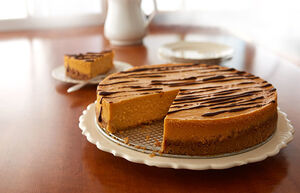 16 crushed cinnamon graham crackers
1 ¾ cup sugar, white or brown only
1 ¾ cup melted butter
2 packs of softened cream cheese (8 oz. each)
2 eggs
1 ¾ cup instant coffee, with 1 cup separated when prepared and hot, and ¾ cup with hazelnut
1 square of semi-sweet confectioner chocolate
1 cup caramel syrup
Directions
Edit
Mix the cracker crumbs with 1 cup of sugar and the margarine. Press the mix firmly on the base and walls of a nine inch round mold.
Place it in the fridge while you prepare the filling. Whip the cream cheese and remaining sugar in a large container with a mixer at medium speed until they are mixed.
Add the eggs and coffee; mix until you get an even preparation. Pour this on the base.
Bake it at 350° F for 35-40 minutes or until the center is almost firm. Let it cool completely on a metal rack.
Refrigerate for at least 3 hours or overnight.
Decorate the top of the pie with the melted chocolate.
Mix the caramel covering and hazelnut coffee in a small pot; cook it over low flame until they are mixed and warm, stirring every now and then.
Cool at room temperature. Pour a tablespoon of the caramel mix on each dessert plate.
Pour an extra tablespoon of caramel on the cheesecake. Serve cold and plain or with other desserts but cut into serving triangles with the kitchen knife and transfer to a fresh dessert plate.