Description
Edit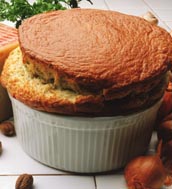 A soufflé should be served immediately as it starts to collapse a few minutes after removing from the oven.
Ingredients
Edit
Directions
Edit
Preheat oven to 350°F.
Grease a two-quart soufflé dish and sprinkle with 2 tablespoons parmesan cheese.
Set aside.
Melt butter in a medium saucepan over moderate heat.
Stir in soy and pastry flours and mix well.
Slowly add heavy cream and water, whisking constantly.
Bring to a boil, stirring constantly, until mixture is smooth, about 3 minutes.
Remove from heat and whisk in egg yolks, one at a time.
Transfer to a large bowl and set aside.
With an electric mixer in high speed, beat whites until stiff peaks form, about 4 minutes.
Using a rubber spatula, fold whites into cheese mixture in three additions.
Gently pour soufflé mixture into prepared dish and bake on center rack for 40 to 45 minutes, until a skewer inserted in middle comes out clean and soufflé is completely risen and browned.
Serve immediately.
Ad blocker interference detected!
Wikia is a free-to-use site that makes money from advertising. We have a modified experience for viewers using ad blockers

Wikia is not accessible if you've made further modifications. Remove the custom ad blocker rule(s) and the page will load as expected.