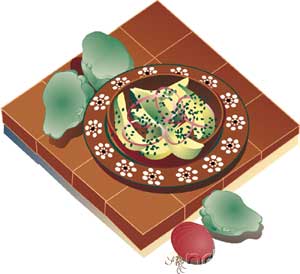 Ingredients
Edit
Directions
Edit
In a mortar and pestle, blender, or food processor, combine the peppers and the salt and process until the mixture is a thick paste.
Gradually add the onion and garlic, and process, scraping down the sides of the container as necessary, until they are incorporated into the paste.
Add the lemon juice and process again.
Transfer the sauce to a glass bowl, cover with plastic wrap, and allow to stand for 30 minutes so that the flavors can marry.
In a large heavy skillet, heat the olive oil over medium heat.
Add the chayote and saute, stirring occasionally, for about 10 minutes, or until fork tender.
Chill in the refrigerator for 2 hours.
Arrange the slices on a platter and drizzle with the sauce.
Ad blocker interference detected!
Wikia is a free-to-use site that makes money from advertising. We have a modified experience for viewers using ad blockers

Wikia is not accessible if you've made further modifications. Remove the custom ad blocker rule(s) and the page will load as expected.