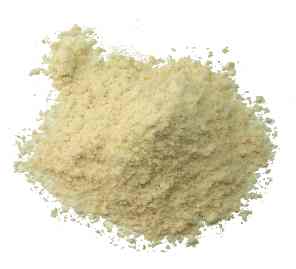 Name Variations
Edit
chapati flour
chapatti flour
atta
About Chapati flour
Edit
Chapati flour, or atta flour (whole grain durum wheat), is used along with water and salt is used to make chapatis. They are made by rolling the dough out into discs of approximately twelve centimeters in diameter and browning the discs on both sides on a very hot, dry tava or frying pan (preferably not one coated with Teflon or other nonstick material). Each disc is then held for about half a second directly into an open flame, causing it to puff up with steam like a balloon.
This is a blend of wheat and malted barley flours used to make chapatis. Substitutes: Sift together equal parts whole wheat flour and all-purpose flour
Ad blocker interference detected!
Wikia is a free-to-use site that makes money from advertising. We have a modified experience for viewers using ad blockers

Wikia is not accessible if you've made further modifications. Remove the custom ad blocker rule(s) and the page will load as expected.