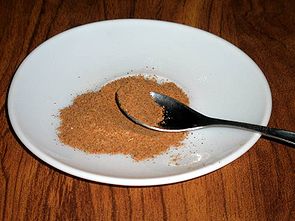 About Chaat masala
Edit
Chaat masala (Hindi चाट मसाला; also spelled chat masala) is a masala, or spice mix, used in Indian cuisine. It typically consists of:
The ingredients are combined and served on a small metal plate or a banana leaf, dried and formed into a bowl, at chaat carts (especially in Gujarat, Maharastra, and across Northern and even Southern India).
Chaat masala has a pungent almost eggy smell and tastes both sweet and sour. It is used to flavour all the popular fast foods of India like bhelpuri, golgappa, aaloo chaat and Dahi puri. It is something of an acquired taste, and can be added to all sorts of everyday foods and drinks or even eaten on its own.
Ad blocker interference detected!
Wikia is a free-to-use site that makes money from advertising. We have a modified experience for viewers using ad blockers

Wikia is not accessible if you've made further modifications. Remove the custom ad blocker rule(s) and the page will load as expected.