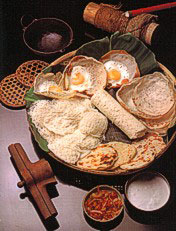 Sri Lankan cooking is generally focused on meat and fish; vegetable dishes are meant to be served with a main meat dish. Some of the vegetarian substitutes are seitan, tofu, and meat-stimulators. You can try different Sri Lankan appetizers like salad rolls, which are similar to Thai or Vietnamese fresh spring rolls, crammed with crisp greens, carrots and rice noodles; Sri Lankan coconut rotti, which is nothing but a crispy griddle-baked bread served with garlic-laced ghee as well as a snappy chutney made with coconut and jalapeno pepper; Basmati rice, dahl, chutney; Bok Choy Tofu, meaning cubes of tofu in a caramelized onion sauce, topped with crunchy fresh bok choy; Sri Deviled chicken; Sri Lankan Platter, which can contain mixed vegetable curry, coconut leek sambol, and cashews with cauliflower. Another interesting and tasty appetizer, which can be in the same time a snack, is kadju badun or Sri Lankan deviled cashews. To prepare it you have to combine the cashews, paprika, turmenic, salt and water together and leave them for an hour. After that, you heat vegetable oil in a skillet and fry the cashews until they become brown. Then remove from the oil, drain on paper towels and let cool slightly. At the end you combine chili powder and garlic salt, and toss nuts around in the mixture.
Pages in category "Sri Lankan Appetizers"
The following 7 pages are in this category, out of 7 total.
Ad blocker interference detected!
Wikia is a free-to-use site that makes money from advertising. We have a modified experience for viewers using ad blockers

Wikia is not accessible if you've made further modifications. Remove the custom ad blocker rule(s) and the page will load as expected.