Haitian food is both unique and tasty. Listed below are hundreds of recipes to choose from. Some popular meat dishes include roast goat called 'kabrit', fried pork 'griot' or poultry with a Creole sauce 'poulet creole'. Haiti also displays a general coastal cuisine, with fish meat, lobster, shrimp and sea-food readily available. Fruit including guava, pineapple, mango, banana, melons, breadfruit is often used in fruit salads, compotes or other delicious desserts. Sugarcane is often prepared and sold on streets and enjoyed at home as well as a tasty treat or snack. Coconuts are the number one choice when it comes to beverages. Many of the Haitian appetizers are lighter variations of main dishes such as the Boiled Fish, Conch (Lambi), Chicken (Poule) or Fried Pork (Griot). Desserts will often include the sweet and tasty fried bananas (Beyen) or the traditional sweet potato bread (Pain patate).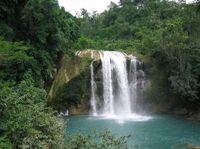 Try these Haitian recipes:
Subcategories
This category has the following 8 subcategories, out of 8 total.
Pages in category "Haitian Recipes"
This category contains only the following page.
Ad blocker interference detected!
Wikia is a free-to-use site that makes money from advertising. We have a modified experience for viewers using ad blockers

Wikia is not accessible if you've made further modifications. Remove the custom ad blocker rule(s) and the page will load as expected.