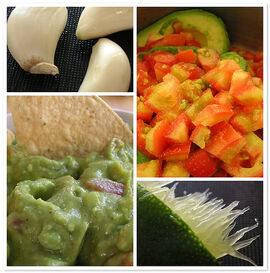 Guacamole is a spicy Mexican (or Tex-Mex) paste made from crushed avocado and various seasonings, usually including onions, peppers, garlic and tomatoes.
Guacamole is used as a condiment, an ingredient, and as an appetizer when served with tortilla chips.
Try one of 105 guacamole recipes below:
Pages in category "Guacamole Recipes"
The following 113 pages are in this category, out of 113 total.
7

A

B

C

D

E

F

G

H

I

J

L

M

N

N cont.

O

P

R

S

T

U

V

W

Y